Please note that at this time, we can only ship to residents in the following states: California, Colorado, DC, Florida, Minnesota, Missouri, New York, North Carolina, Ohio and Pennsylvania.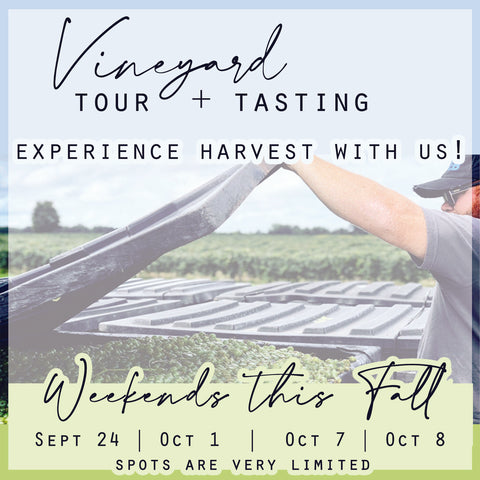 Vineyard Tour & Tasting
Join us for an intimate experiential tour and tasting around our vineyard!
This fall, explore a behind-the-scenes world of grape growing that will tantalize your senses and give you a better idea of how we make our award-winning wines. Our knowledgable staff will lead you on a tour of our vineyard, learning about grape varietals along the way. A 6-pour tasting (sweet or dry wines, your choice!) will highlight some of the grape varietals tasted in the vineyard. 

To conclude your tour, enjoy charcuterie alongside a glass of wine amongst the vines.
**Please note: Limited spots--only 16 available per time slot. Be mindful of the date and ticket type you are adding to your cart!
Wine Club Members call in for your discounted ticket price!

If you're looking to find our wines in liquor stores and restaurants in New York, check out our Interactive Map.